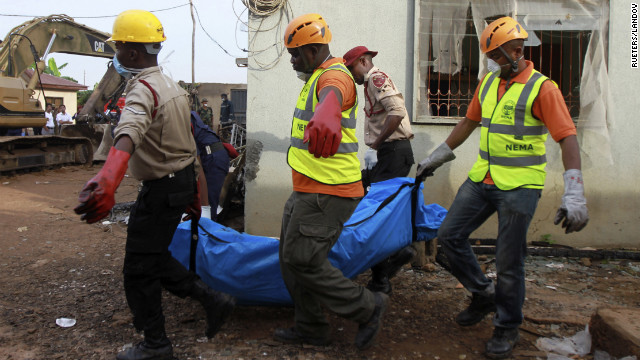 Rescue workers remove a victim of Sunday's plane crash in a Lagos, Nigeria, residential area on Monday, June 4. All 153 people aboard were killed.
President Goodluck Jonathan wipes a tear during a visit to the site of the crash in Lagos on Monday.
The scene is surrounded by onlookers as pieces of the wreckage and debris are cleared Monday.
Residents took pictures with cellphones Sunday.
Onlookers gathered around one of the plane's large engines Sunday.
At least 10 people on the ground also died in the crash.
Firefighters work at the scene of the crash. The Dana Air flight from Abuja plunged into a building several miles from the airport in Lagos.
Residents help carry a firehose as hundreds congregate around the crash site.
A helicopter hovers over the neighborhood in Lagos. Throngs of people flocked to the area despite debris, fires and thick smoke.
Rescuers carry remains to an ambulance on Sunday.
Residents stand around and in some cases on top of the mangled plane. The accident site was not cordoned off.
Soldiers disperse onlookers near the site of the crash.
The crash triggered three house fires, a rescue officer said. Femi Green-Adebo, who lives blocks away, described hearing a "loud explosion," then running outside and seeing smoke.
"It was so hot, we couldn't get close because of the fire," Green-Adebo said. "I just kept thinking about the people, if there was anyone in there."
Green-Adebo says he left the scene soon after taking pictures. The large crowds were too much to handle.
Deadly plane crash in Nigeria
Deadly plane crash in Nigeria
Deadly plane crash in Nigeria
Deadly plane crash in Nigeria
Deadly plane crash in Nigeria
Deadly plane crash in Nigeria
Deadly plane crash in Nigeria
Deadly plane crash in Nigeria
Deadly plane crash in Nigeria
Deadly plane crash in Nigeria
Deadly plane crash in Nigeria
Deadly plane crash in Nigeria
Deadly plane crash in Nigeria
Deadly plane crash in Nigeria
Deadly plane crash in Nigeria
STORY HIGHLIGHTS
NEW: An official says he doubts anyone buried in the rubble is still alive
NEW: The crowd is "all controlled," after hundreds had gathered at the crash site
The plane crashed into a densely populated neighborhood miles from the airport
Earlier images showed people climbing on the wreckage and carrying fire hoses
Lagos, Nigeria (CNN) -- The search for bodies and, hopefully, survivors in Nigeria's most populated city continued through the night and into Monday, hours after an airliner crashed killing all 153 passengers and crew on board and at least 10 people on the ground.
Mohammed Sani Sidi, director general of the West African nation's National Emergency Management Agency -- who had conceded late Sunday there were no survivors on the Dana Air flight -- said early Monday that individuals in the Lagos neighborhood when and where the jet hit also had died.
More than 80 bodies had been recovered from the crash site by 1 a.m. (8 p.m. Sunday ET), Sidi said, 10 of which belonged to people who were in the residential area. He added that, if there are people still buried under the rubble, he doubts that they are still alive.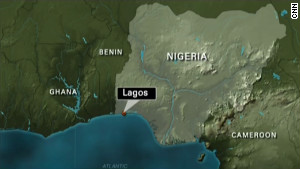 Despite darkness, potential instability of buildings and crowd-control challenges, the emergency official promised rescue workers, first responders and security personnel will remain on site looking for more people from the plane and surrounding area.
"We will not leave until every body is recovered," Sidi said.
The Dana Air flight from Abuja crashed at 3:43 p.m. (10:43 a.m. ET) into a building in the Iju Ishaga neighborhood just over 4 kilometers (2.5 miles) north from the edge of the city's airport, according to the Nigerian Civil Aviation Authority.
Sidi said that one building was "totally destroyed," though several others in the densely populated area were affected as well. The state-run Voice of Nigeria news organization reported that a manufacturing building, a block of six apartments and a church suffered at least some damage.
Fires broke out in at least three buildings after the crash, said Labaran Ahmed, a rescue officer with the national emergency agency.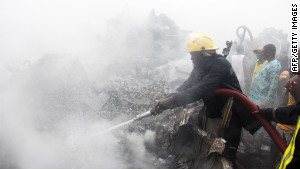 'No survivors' in Nigerian plane crash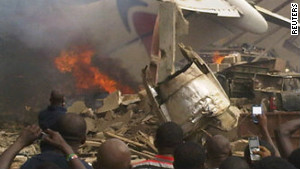 Airliner goes down in Lagos, Nigeria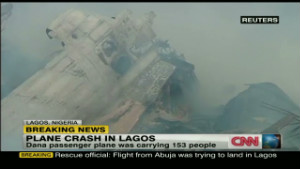 Video shows plane still smoldering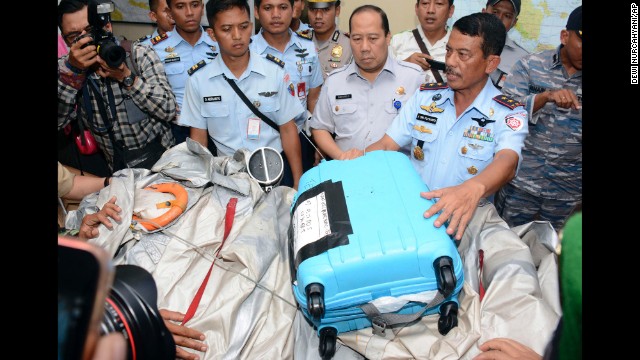 At a press conference Tuesday, December 30, Indonesian air force personnel show airplane parts and a suitcase found floating in the Java Sea near the crash site of AirAsia Flight QZ8501. The Airbus A320-200 lost contact with air traffic control early Sunday, December 28, shortly after the pilot requested permission to turn and climb to a higher altitude because of bad weather, according to Indonesian officials.
Malaysia Airlines Flight 17 crashed in a field in eastern Ukraine on Wednesday, July 16, 2014. U.S. intelligence concluded the passenger jet carrying 298 people was shot down. Ukrainian officials accused pro-Russian rebels of downing the jet, but Russia pointed the finger back at Ukraine, blaming its military operations against separatists.
Maylasian Airlines Flight 370 disappeared over Southeast Asia on March 8, 2014. Searchers have yet to find any trace of the Boeing 777 or the 239 people aboard. Australian officials said they believe the plane was on autopilot throughout its journey over the Indian Ocean until it ran out of fuel. Here, relatives of passengers on the missing flight take part in a prayer service at the Metro Park Hotel in Beijing on April 8.
Asiana Airlines Flight 214 crashed at San Francisco International Airport on July 6, 2013. The South Korean airline's Boeing 777 fell short of its approach and crash-landed on the runway. Three people were killed and more than 180 were injured.
A Dana Air MD-83 carrying 153 people crashed on June 3, 2012, in a residential neighborhood in Lagos, Nigeria's most populous city. No one on the plane survived, and 10 people on the ground were killed.
Indonesian relatives mourn at the airport in Jakarta after a Russian Sukhoi Superjet slammed into the side of a volcano on May 9, 2012. Russia's newest civilian airliner was on its second demonstration flight when the incident occurred, killing all 45 people on board.
A plane crash on April 20, 2012, in Islamabad, Pakistan, killed 127 people. The Bhoja Air Boeing 737 was en route from Karachi to the Pakistani capital.
A plane carrying dozens of hockey players crashed on September 7, 2011, outside the Russian city of Yaroslavl, about 160 miles northeast of Moscow. Forty-three people were killed. One of two survivors later died of his injuries.
A Hewa Bora Airways plane crashed on July 8, 2011, while trying to land in bad weather at the airport in Kisangani, Democratic Republic of Congo. At least 74 of the 118 people on board were killed.
A survivor of an Iran Air Boeing 727 crash lies in a hospital on January 10, 2011. The plane went down a day earlier near the city of Orumiyeh, killing 77 of 105 passengers and crew members.
An Airblue flight carrying 152 people crashed into a hillside on the outskirts of Islamabad, Pakistan, on July 28, 2010. No one survived.
An Air India plane crash killed 158 people on May 22, 2010, after the jet overshot a runway in Mangalore, in southwestern India, crashed into a ravine and burst into flames.
A 9-year-old Dutch boy was the lone survivor of a plane crash on Afriqiyah Airways that killed 103 people near Tripoli, Libya, on May 12, 2010. His mother, father and older brother died in the crash.
A plane carrying Polish President Lech Kaczynski crashed as it tried to land at an airport near the Russian city of Smolensk on April 10, 2010. Kaczynski was among the 97 people killed.
An Ethiopian Airlines flight crashed into the sea, killing all 90 people aboard shortly after taking off from Beirut, Lebanon, on January 25, 2010.
A Caspian Airlines plane went down in a field near the north-central Iranian city of Qazvin, on July 15, 2009, killing all 168 people on board and leaving a huge, smoldering crater.
A Yemenia Airways plane carrying more than 150 people crashed in the Indian Ocean off the island nation of Comoros on June 30, 2009. The Airbus A310 was en route to Moroni, the capital of Comoros, from Yemen's capital, Sanaa.
An Air France flight carrying 228 people disappeared from radar over the Atlantic Ocean on June 1, 2009. The Airbus A330 took off from Rio de Janeiro bound for Paris and sent out an automatic signal warning of electrical problems.
Colgan Air Flight 3407 (a connector flight with Continental Airlines) crashed into a house outside Buffalo, New York, on February 13, 2009, killing all 49 aboard the plane and one on the ground. Two occupants of the house survived.
A TAM Airlines jet skidded off the runway into a gas station and burst into flames on July 17, 2007, after landing at the airport in Sao Paulo, Brazil. All 199 people on board were killed.
A Comair flight crashed in Lexington, Kentucky, while attempting to take off from the wrong runway on August 27, 2006. The plane ran off the end of the runway, drove through a fence and crashed into trees on an adjacent horse farm. Forty-nine of 50 people aboard were killed.
A Sudan Airways Boeing 737 crashed just after takeoff on July 8, 2003, killing 116 people. A 3-year-old boy was the only survivor.
An American Airlines plane crashed in Belle Harbor, Queens, shortly after takeoff from John F. Kennedy Airport on November 12, 2001. The crash killed 265 people, including five people on the ground.
An Air France Concorde, en route to New York, crashed into a Paris hotel shortly after takeoff on July 25, 2000. All 109 passengers and crew members died. Four people on the ground were also killed.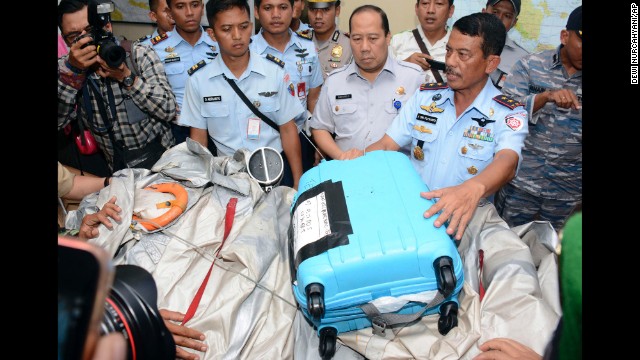 Photos: Recent major plane crashes
The smell of jet fuel was evident in the air, yet that didn't stop hundreds and hundreds of people from congregating around the crash site. Video from the scene showed people clambering on the wreckage -- including parts of the fallen plane -- and working together to hold up what appeared to be a fire hose.
For hours, the area around the crash site wasn't cordoned off as the mass of people packed the area, making if difficult to move -- including for rescue personnel.
"There were so many people, you had to push through people to walk," recalled Pearl Ezeokeke, who was at the scene.
Even nine hours after the plane slammed into the earth, Sidi described "crowd control (as a) big challenge." But by 1:30 a.m. Monday, the Nigerian official insisted the situation was "all controlled" and that the greatest difficulty then was sifting through the heavy debris.
Femi Green-Adebo described how, in the middle of an otherwise nice Sunday afternoon, he heard a "loud explosion" and then ran outside and saw "smoke."
'It was so hot, we couldn't get close," he told CNN iReport. 'I just kept thinking about the people, if there as anyone in there.'
The fires made it difficult for people to see what was happening, as well as to breathe. Orange flames shot up in spots as late as 7 p.m. Sunday. Five hours later, Sidi said fires were no longer burning and the scene was under control.
"There was ... so much (smoke) that, my eyes, I couldn't see beyond where I was standing," Ilori Olayide told CNN.
Amongst the crowd of civilians, witnesses reported seeing police, firefighters and security personnel. Patrick Abbah, from the national emergency management agency, said, "Everybody is present -- it's all hands on deck."
There were no large lights on-site to add the rescue efforts as the sun went down. But over the subsequent hours, lights were up and illuminating the crash site, according to Sidi.
President Goodluck Jonathan declared three days of national mourning and ordered "the fullest possible investigation" after the crash.
A statement from his office noted that the incident came the same day that two church bombings in northern Nigeria killed at least 15 people and wounded 38 others, according to Red Cross spokesman Andronicus Adeyemo.
"President Jonathan assures air travelers in the country that every possible effort will be made to ensure that the right lessons are learned from the tragic loss of valuable lives in today's plane crash and that further measures will be put in place to boost aviation safety," the statement from Jonathan's office said.
Airplane disasters are nothing new for Nigeria. The deadliest came in July 1991, when all 261 on board a Nigerian Airways airliner died after its landing gear caught fire shortly after takeoff in Saudi Arabia en route to Nigeria, and the plane went down. About 225 people were killed in two crashes that occurred within two months of each other in late 2005.
And on Saturday, a Boeing 727 cargo plane operated by Nigerian-based Allied Air took off from Lagos and landed at Kotoka International Airport in Accra, Ghana. But it didn't stop on the runway, barreling through a fence and onto a street, where it hit a passenger bus and killed 10 people, officials said. Ghana Aviation Authority sources said they suspect brake failure may have contributed to that crash.
Dana Air, the airline behind the flight involved in the next day's crash, began operations in November 2008. The company has since become "one of Nigeria's leading airlines," according to its website.
While no specifics have been released about the plane that crashed, Dana Air said its fleet consists of Boeing MD-83 aircraft. Boeing's website notes that such planes can carry between 155 and 172 passengers, cover up to 2,504 nautical miles and have a fuel capacity of 7,000 gallons.
CNN's Vladimir Duthiers, Karen Smith, Greg Botelho, Jareen Imam, Yousuf Basil, Nana Karikari-apau and Ashley Gallagher contributed to this report.